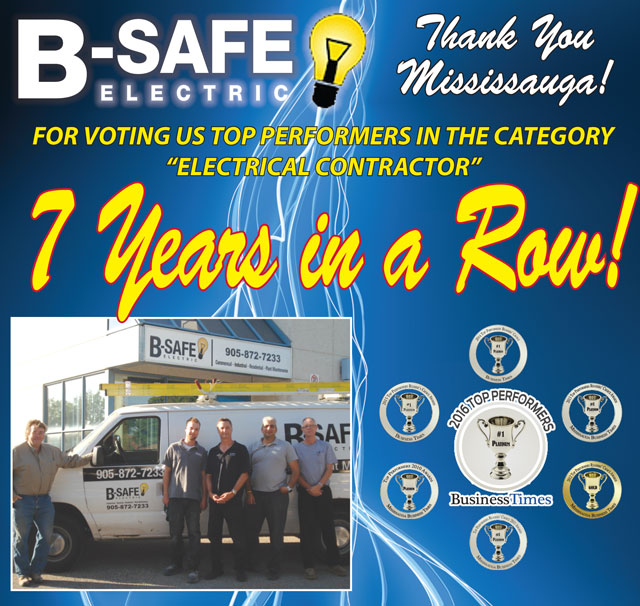 B-Safe is a high quality electrical contractor company that specializes in commercial, industrial and residential electric services. B-Safe has the resources and equipment to complete any task. Whether it's a small job or a large project, we will deliver the electric services you require. With over 15 years of experience in the business and hundreds of satisfied and happy clients we continue to make it our goal to please every customer and not only meet but exceed their expectations. Over the years we have built our reputation of a professional company for our reasonable prices and skilled work. From electrical installations to electrical maintenance, generator installations, electrical wiring, there is no electrical service that is too small of too big for B-Safe to handle.

We take pride in what we do and we have an impeccable record of honest, reliable and professional work. Our electric company only hires the best electrical contractors in Toronto, that can handle a job of any scope. Our electricians are all fully trained and certified. With years of experience behind their back, they can get even the toughest jobs done in a timely and professional manner. From installations, repair and upgrades of smaller residential units to large scale industrial projects, we can get it done! We offer a 24 hour emergency service. Our vehicles are fully stocked with essential equipment, readily available at any time.
Your safety is our priority. We meet the full Electrical Contracting Licensing Requirements (ELCR) of the Electrical Contractor Registration Agency (ECRA) and electrical safety authority (ESA). At B-Safe Electric we understand that to get the job done and leave our clients satisfied it takes a whole team. This is why our large team of managers, project managers, assistants, receptionists and electric contractors in Toronto and surrounding areas work together to get your property looking exactly the way you want it to.
We service the Greater Toronto Area (GTA) and the surrounding areas including Missisauga, Etobicoke, Milton, Brampton, Oakville, Vaughan, Malton and North York. We provide free consultation as well as a free quote on any electrical project. While having a long list of customers we always welcome new clientele and new projects. Don't take chances with other electrical contractors in Toronto and call us today at 905 87BSAFE (905-872-7233) or fill out our online contact form and a B-Safe representative will contact you as quickly as possible. We can guarantee that whatever project you trust us with will be completed thoroughly and courteously.
B-Safe Electric serves the commercial, industrial, residential sectors and we also serve property management companies. For more information please visit our specialized services pages:
Or call us today at 905 87B-SAFE (905 872-7233)