Warehouse & Machinery Projects
Machinery Installation and Maintenance
New construction / Tenders welcomed
Experts at Design / Build Work
Automation Line Upgrades
PLC Installations
Plant Maintenance
Lighting Installations
Energy efficient Lighting Upgrades
Hazardous Gas Detection Systems
Panel Building
Industrial Units
Indoor/Outdoor Wiring
New equipment installation
Generators / UPS Systems
Electrical Distribution Upgrades / Alterations
Any other type of industrial electrical repair, renovation and maintenance!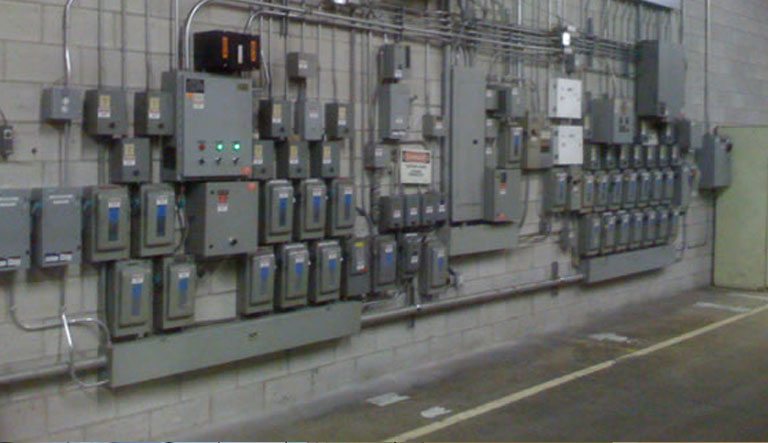 At B-Safe Electric, we understand the importance of your business. Whether you're an owner of a restaurant, office, salon, smaller local store or business, proper lighting is crucial in setting the proper mood and atmosphere Not only can our industrial engineers meet your specific needs, but we guarantee that the job will be done in a professional, cost-effective and timely manner. For over 15 years, we have successfully taken on every type of industrial electrical project. Whether it's power factor correction, aluminum rewiring, facility maintenance, relocation for machinery, electrical service installation or telephone and intercom installation, we get the job done. Our trained and certified staff consists of the best Industrial electricians in Toronto, that are more than capable of a variety of commercial tasks and will not only meet but exceed all of your expectations. Their professionalism and serious approach to their work guarantee your satisfaction.
At B-Safe Electric, we value our customers and therefore your safety is our number one priority. We make sure that all the electrical safety regulations are met. Many other Electric companies have a limited number of Electricians and therefore they are forced to rush their work due to the large number of jobs. This leads to sloppy and inaccurate work, making it extremely unsafe. Unlike all the other Electric companies, we have a large number of Industrial electricians in Toronto. This allows us to make sure every job gets the attention it requires, everything is done at the highest level and your safety is guaranteed.
Our work speaks for itself. Although we are not the largest company, we pride ourselves in having the best and most qualified industrial electricians in Toronto. With hundreds of satisfied clients, we continue to be one of the fastest growing electric companies in Ontario. We strive to achieve the best results possible for our clients. Our industrial electricians offer our clients skillful and efficient work that will leave you satisfied. Our work speaks for itself and we give you our word that you won't be disappointed.
We have Industrial electricians in Toronto that are on call 24/7 and prepared to offer their expertise for any industrial electric emergency. No matter what the emergency is, no matter what time it is, we are just a phone call away. We will do our best to accommodate you in every way and meet all your needs, so pick up the phone and call us today at 905 87B-SAFE (905 872-7233).
WE SERVICE
Mississauga
North York
Downtown Toronto
Etobicoke
Woodbridge
York Region
Vaughan
Richmond Hill
Markham
Scarborough
GTA
Golden Horseshoe Area
And More...
Testimonial
"I would like to THANK YOU for the great job you did on the Baylis Cleanroom.
I understand that schedule is tight and the job during the holiday season, but you still manage to install all of the electrical requirement.
Million Thanks to you and you staff!."